Mage_Adminhtml_Block_Sales_Order_Create_Items Class Reference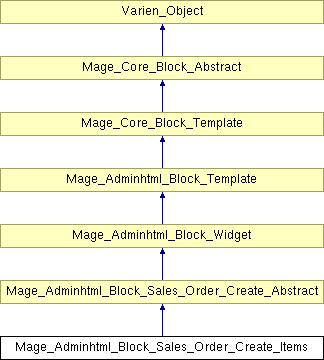 ---
Detailed Description
Definition at line 35 of file Items.php.
---
Constructor & Destructor Documentation
Constructor
By default is looking for first argument as array and assignes it as object attributes This behaviour may change in child classes
Reimplemented from Varien_Object.
Definition at line 37 of file Items.php.
---
Member Function Documentation
Definition at line 54 of file Items.php.
00055     {
00056         $addButtonData = array(
00057             

'label'

 => Mage::helper(

'sales'

)->__(

'Add Products'

),
00058             

'onclick'

 => 

"order.productGridShow(this)"

,
00059             

'class'

 => 

'add'

,
00060         );
00061         

return

 $this->getLayout()->createBlock(

'adminhtml/widget_button'

)->setData($addButtonData)->toHtml();
00062     }

---
The documentation for this class was generated from the following file:
app/code/core/Mage/Adminhtml/Block/Sales/Order/Create/Items.php