Mage_Install_Block_End Class Reference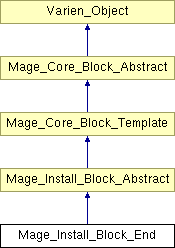 ---
Detailed Description
Installation ending block
Author:

Magento Core Team <core@magentocommerce.com>
Definition at line 32 of file End.php.
---
Constructor & Destructor Documentation
Constructor
By default is looking for first argument as array and assignes it as object attributes This behaviour may change in child classes
Reimplemented from Varien_Object.
Definition at line 34 of file End.php.
---
Member Function Documentation
Definition at line 40 of file End.php.
00041     {
00042         $key = $this->getData(

'encryption_key'

);
00043         

if

 (is_null($key)) {
00044             $key = (string) Mage::getConfig()->getNode(

'global/crypt/key'

);
00045             $this->setData(

'encryption_key'

, $key);
00046         }
00047         

return

 $key;
00048     }

---
The documentation for this class was generated from the following file:
app/code/core/Mage/Install/Block/End.php